The First London Ear Festival
Programme and performers
11 CONCERTS were programmed by world-class performers from six countries. These included mixed instrumental ensembles, a vocal ensemble, a string quartet, percussion ensembles, a solo piano recital and pieces involving electronics and video. Programme 2013
THE VENUES were The Warehouse, Waterloo, London SE1 (long associated with contemporary music events) for the main concerts, and the adjacent gallery, The Cello Factory, for late-evening concerts in the Festival Club.
PERFORMERS from the UK include Uroboros Ensemble, pianists Ian Pace and Mark Knoop, members of FLAME Ensemble, and the 'Featured Young Performers' (see below). Other performers, all of international stature, came from Austria, Germany, Italy, Norway and Switzerland. All played music from their own country, a British piece, and a work from at least one of the other featured countries.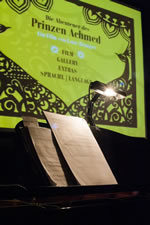 RECENT MUSIC featured in all concerts, including works by established, emerging and undiscovered or neglected composers. The programmes included 15 world premières, five of which are festival commissions, and also many UK premières.
PRE-CONCERT EVENTS including talks and interviews were designed to enhance the audience's appreciation, and allow them to meet composers and performers.
A COMPOSERS' COMPETITION offered exposure for less established composers; the winning pieces were performed in festival concerts. See the the results details.
FEATURED YOUNG PERFORMERS, at the beginning of their careers, gave a recital of recent music, and also participated in a festival ensemble concert, playing alongside experienced professionals.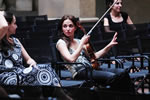 THREE WORKSHOPS for advanced student instrumentalists focused on understanding some of the more unusual techniques found in contemporary music
AN EDUCATIONAL PROJECT, for children 9–16, offered young participants the fascinating experience of elaborating and rehearsing an open-form piece specially composer by Emma-Jean Thackray and commissioned for this occasion by Trinity Laban Conservatoire. The final piece was be performed as a preface to one of the concerts.
A FESTIVAL CLUB based in The Cello Factory enabled audiences to meet and talk with composers and performers in an informal atmosphere.