London's new festival dedicated exclusively to contemporary classical music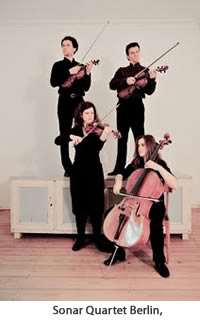 London Ear Festival of Contemporary Music is a new international festival.
As well as presenting concerts of music by established, emerging and undiscovered composers, the festival will host a major international composers' competition, and offers opportunities for advanced young performers.
The first LONDON EAR festival of contemporary
                   music:  20–24 March, 2013
A celebration of recent instrumental, vocal and electronic music highlighting music from: Britain, Austria, Germany, Italy, Norway, and Switzerland
• Concerts by world class performers
               from the participating countries
• Preconcert talks and interviews
• An International Composers' Competition
• A Featured Young Performer
• Workshops and masterclasses for advanced students
• Educational projects for children and teenagers
A festival club will bring performers, composers and audiences together in an informal atmosphere where refreshments will be available.
Events  take place at The Warehouse and The Cello Factory, close to Waterloo, London.
LONDON EAR festival of contemporary music gratefully acknowledges the generous support of :
The Artemis Charitable Foundation
The Boltini Trust
The Hinrichsen Foundation
The Holst Foundation and the following organisations…