2016 Exhibition: To be announced, autumn 2017
2016 Exhibition
Bill Henderson is delighted to show a selection of recent paintings and works on paper to co-incide with the 2016 London Ear Festival, and then as a solo exhibition at the Cello Factory Gallery, following on after the Festival.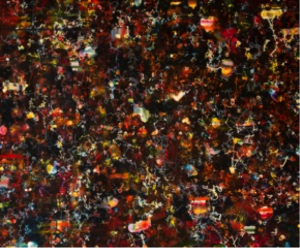 'Magenta July'. Acrylic on canvas.
The Exhibition will open on Tuesday 15th March, Pre-view 6.00 – 8.00. The Gallery will be open every day from 14.00 – 18.00, closing on Sunday 19th March.
2015 Exhibition
Riccardo Cavallari , Veronica Citi, Susan Haire, Frank Hinks, Iraida Icaza, Iaria Marè, Diana Matar, Stefano Pignatelli and Francesca Ulivari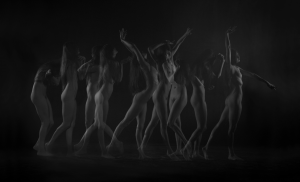 2014 Exhibition
The Paintings of Gillian Ingham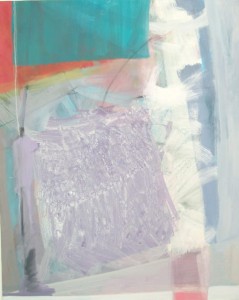 Gillian Ingham is an abstract painter who has been exhibiting since 1975. Her paintings have appeared at London Group shows, RA Summer exhibitions and many others. This show was her first solo show since retiring from education.
Her paintings are about seeking the rhythmical nature of spatial interactions as they relate to line and form but especially to colour. Examples of her work are in the collections of the Arts Council of Great Britain, Kettles Yard, Unilever, A M Kinney Inc Ohio and in private collections here and abroad.
2013 Exhibition
Indra's Net 
A collaboration between visual artist Susan Haire & composer Stephen Dydo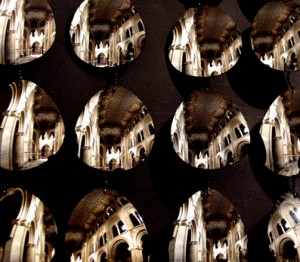 Exhibition of multi-faceted installations exploring Indra's Net, an infinite lattice encrusted with glittering jewels all reflecting each other, an ancient Buddhist metaphor for the interconnectedness of all things. This exhibition formed part of Reflection shown in 2012 in Peterborough Cathedral and Western Connecticut State University, honouring a visit by the Dalai Lama.