Date - Friday 22 March
9:15 pm The Cello Factory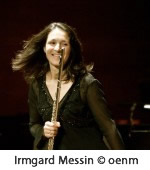 oenm – österreichisches ensemble für neue musik (Salzburg)
A concert to prove that Mozart isn't the only great music to come out of Salzburg! The city is home to the wonderfully versatile group 'oenm' (Austrian Ensemble for New Music) who give us an extremely varied programme, ranging from two Austrian composers of different generations who have gained world-wide recognition, to a work by festival director Gwyn Pritchard and two pieces by composers from Norway and Japan. This is a late-evening 'cabaret-style' concert in the Festival Club, with the bar remaining open throughout.
Bernhard Gander (AT)
Schlechtcharakterstücke *
Johannes Maria Staud (AT)
Lagrein
Beat Furrer (CH/AT)
Presto
Naresh Sohal (GB)
Duo for flute and Violoncello
Eivind Buene (NO)
Ultrabucolic Studies *
Misato Mochizuki
All that is including me *
OENM (Austrian Ensemble for New Music – Salzburg) was formed in 1975. Since 1997 it has become a leading international ensemble for contemporary music. under the direction of violinist Frank Stadler and cellist Peter Sigl. To provide an overview of current national and international tendencies in contemporary music, and to develop an audience for the compositions of the region, the ensemble collaborates with young composers and has already premiered about 300 works. 'oenm' performs regularly at Salzburg Festival, Dialogue Festival, Aspects Festival Salzburg, and has appeared at festivals in Bologna, Bregenz, Dresden, Weimar, Munich, Milan, Parma, Berlin, Warsaw, and Vienna. In the Salzburg Biennale 2009 oenm played seven concerts, including 'Beat Furrer and Jondo Flamenco', 'Steve Reich and gamelan music of Bali,' 'Toshio Hosokawa and music from Japan' and 'Klaus Huber and Arabic music '; and in the Salzburg Biennale 2011 the ensemble worked with Michael Gielen, Thomas Kessler and Dieter Schnebel. 'oenm' is committed to the education and training of young composers and performers through its association with the Academy of Contemporary Music, University Mozarteum in Salzburg.
Tickets: £8/£5 on the door